365 Groups

Introduction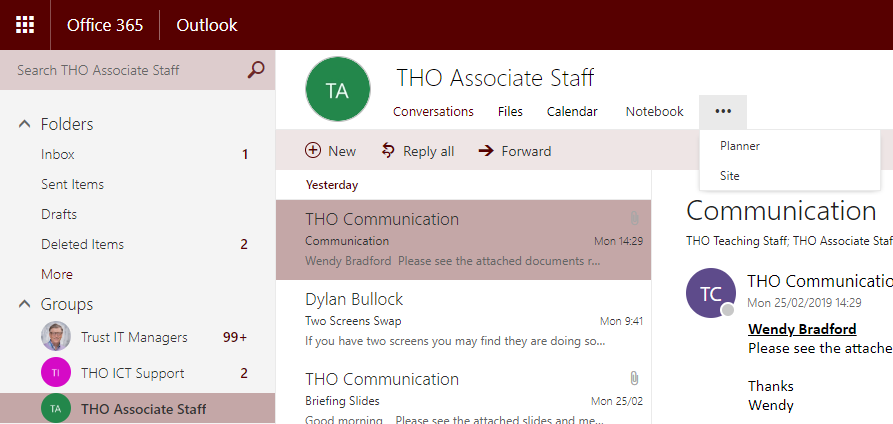 Introduction



Office 365 groups have been introduced to replace the old email addresses distribution lists.

They bring with them additional features including; Conversations, Files, Calendar, Notebook, Planner and Site.

It is a lot easier now to identify who is a member of a group. and if desired I can assign one or more 'owners' to a group which empowers them to also control group membership.

Let me give a brief overview of the six feature I mentioned above and also remind you to take a look at the document S:\Handbook\ICT Support\Benefit of saving to 365

Conversations



What is it?



This is an email inbox for the whole group.

What does it do?



You can use it to view the emails which were sent to the group and replies sent using Reply All also show here too.

What are the benefits?



If you receive a lot of emails to your Inbox or are a member of a lot of groups, it can be easier to find what you need when separated into groups rather than searching your entire Inbox.

If you clean up your own Inbox and have deleted the original email they will still appear here if needed for reference later.

Files



What is it?



A shared area for documents, presentations and any other files.

What does it do?



Files sent to the group as attachments are automatically saved here. Anybody in the group can access these files. People can also upload files here to share with the group.

What are the benefits?



These files can be accessed and edited by multiple people simultaneously. You no longer need to ask someone to close a file so you can enter data because as you need to get to a lesson.

You can come here to find relevant information for that group all stored in the same place.

You can access these files when you are anywhere in the world simply by logging into the website.

Calendar



What is it?



A calendar for the group.

What does it do?



Enables you to place events and meetings for the group into a shared calendar that all can access.

What are the benefits?



Everyone knows what is happening and when.

Notebook



What is it?



A shared OneNote.

What does it do?



Provides a place to share notes. These are typically smaller bits of information which do not necessarily need to be emailed or may need updating frequently.

Can be used to create a record of actions.

Can be used for a place to enter minutes at meetings.

What are the benefits?



A central place to keep group members updated on changes.

If you are taking minutes in a meeting these will be updated in real-time for anyone in the group, present or working remotely.

Planner



What is it?



A project management area.

What does it do?



Provides a space to organise projects with a to do list, tasks and schedules.

What are the benefits?



People can be assigned to different parts of the project to see what needs doing when and how their role fits into the overall timeline.

Progress can be monitored and tracked over time using a variety of charts and calendars.

Site



What is it?



An easy to edit website.

What does it do?



Create news posts for the group, show recent activity, share links, display the group calendar, planner or documents, add in apps such as Twitter feeds or surveys

What are the benefits?



A central place to display any information of files from other parts of the Group we have mentioned above.

Can be a hub for group members to go for up to date activity across the group.